SHIFT YOUR BODY WITH LOVE!!
Take a Journey into Your Mind/Body Connection that will Reshape Your Body in Just 90 Days!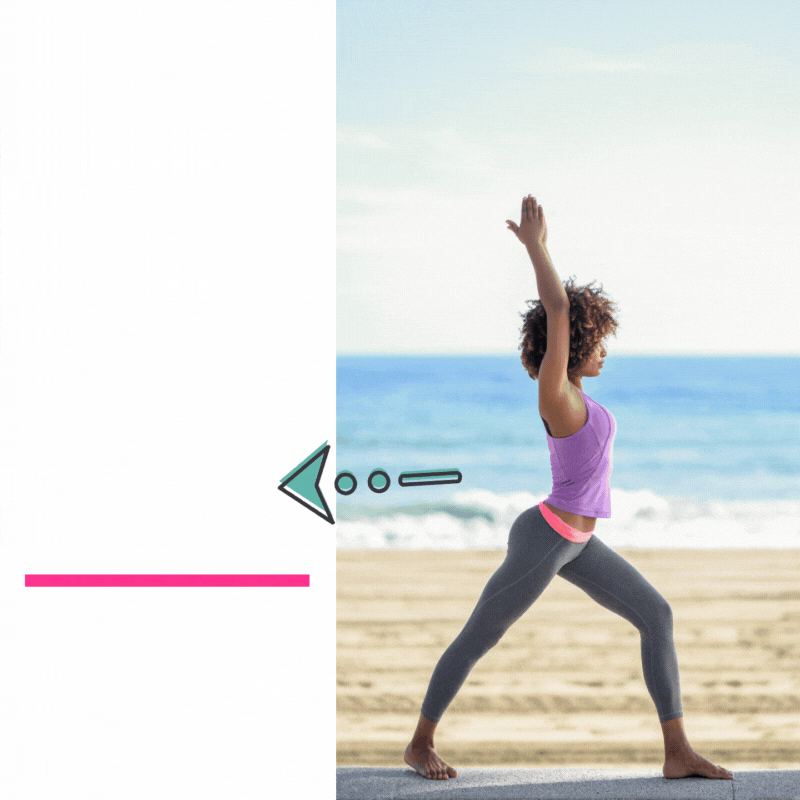 Take a moment and reflect on the following question: How do you THINK & FEEL about yourself?

Did You know the body houses an indwelling intelligence that can be accessed to regenerate and restore any imbalance!
---
Hi! My name is Tomica Thomas, I am a certified Integrative Nutrition Health Coach and a science of self practitioner! Also meet Adina Gittens-Smith, she is a Belly Dancer and Feminine Power Coach here at PSAL.MS. We are excited to work with you and the total transformation of your body!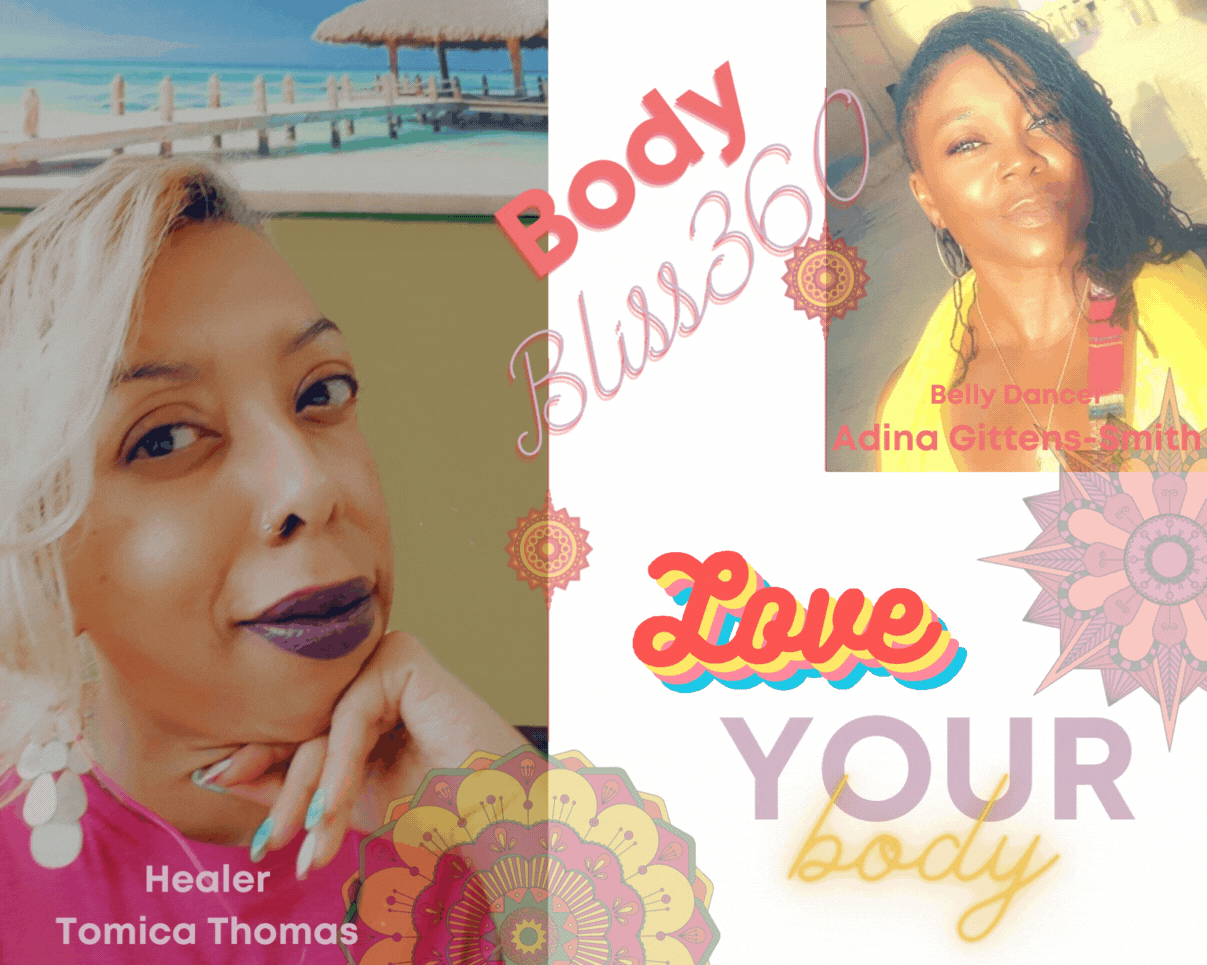 The BodyBliss 360 offers YOU the opportunity to heighten your relationship with your body. We are here to help remind you of your powerful abilities to transform through 90 Day Intensives.
BodyBliss isn't a diet or fad or trendy program, It's a 9-Step transformation and healing system that can be repeated over and over again to achieve lasting results. The sacred BodyBliss community provides an incubator to dig into the outdated beliefs and obstacles that are holding you back from creating the body you desire.
This course is for you if...
- You desire to discover how to heal from the inside, out!
- You've tried diet and exercise with little results!
- You are versed in living a healthy lifestyle but have gotten off track!
- You have a chronic imbalance that you just can't seem to heal!
- Are tired of the one size fits all approach to health!
- Long to increase self love and peace within!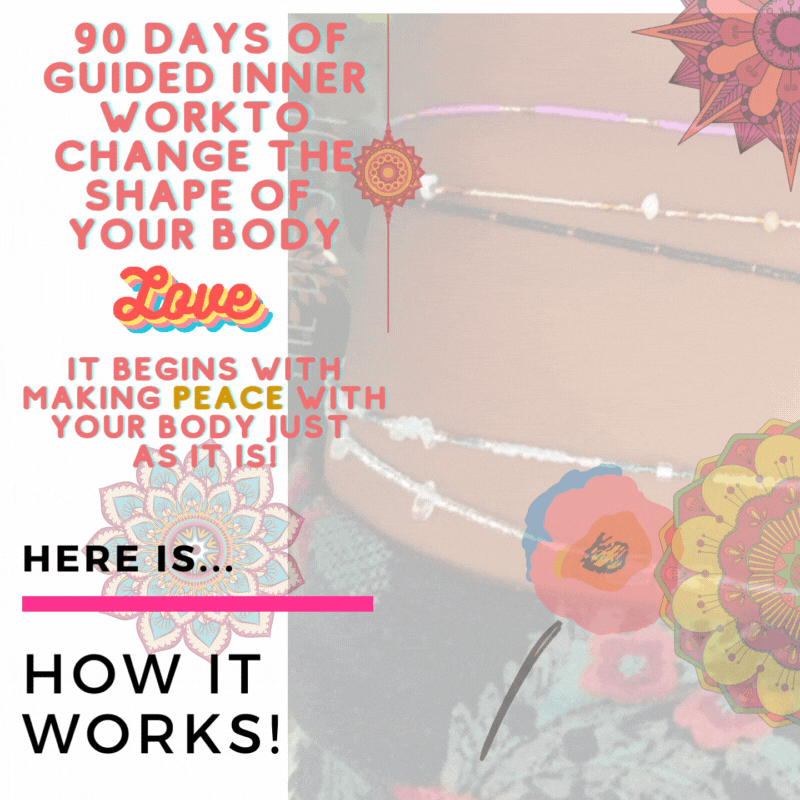 First: You will enter this program and be admitted to our secret, private group on Facebook.
Second: You will fill out the Entrance Form so we can get to know you!

Third: You will be admitted to the BodyBliss Library Here At PSAL.MS for 24/7 Access to Course Content!
Fourth: You will begin learn the 9 steps to transform by taking the following path at a guided pace:
🌺 Make Peace with Your Body - Zero Out to Begin Anew
🌺 Cultivate the Wisdom to Set Your Body Bliss Objectives
🌺 Devote to Your Body Objectives - meditation and dreaming practice.
🌺 Clearing of All Obstacles to Your Body Objectives - meditation and releasing of stories that shape the body.
🌺 Spark the Magnetism of Your Body Objectives of your new body format and frequency.
🌺 Intuit the Vision to Achieve Your Body Objectives - Your New Body Plan and Self-Love Regimen
🌺 Organize and Focus of Your Plan of Action - Enactment and realization of your new body!
🌺 Integration of All Your Power to Transform - Celebration and Bragging Around Your Successes!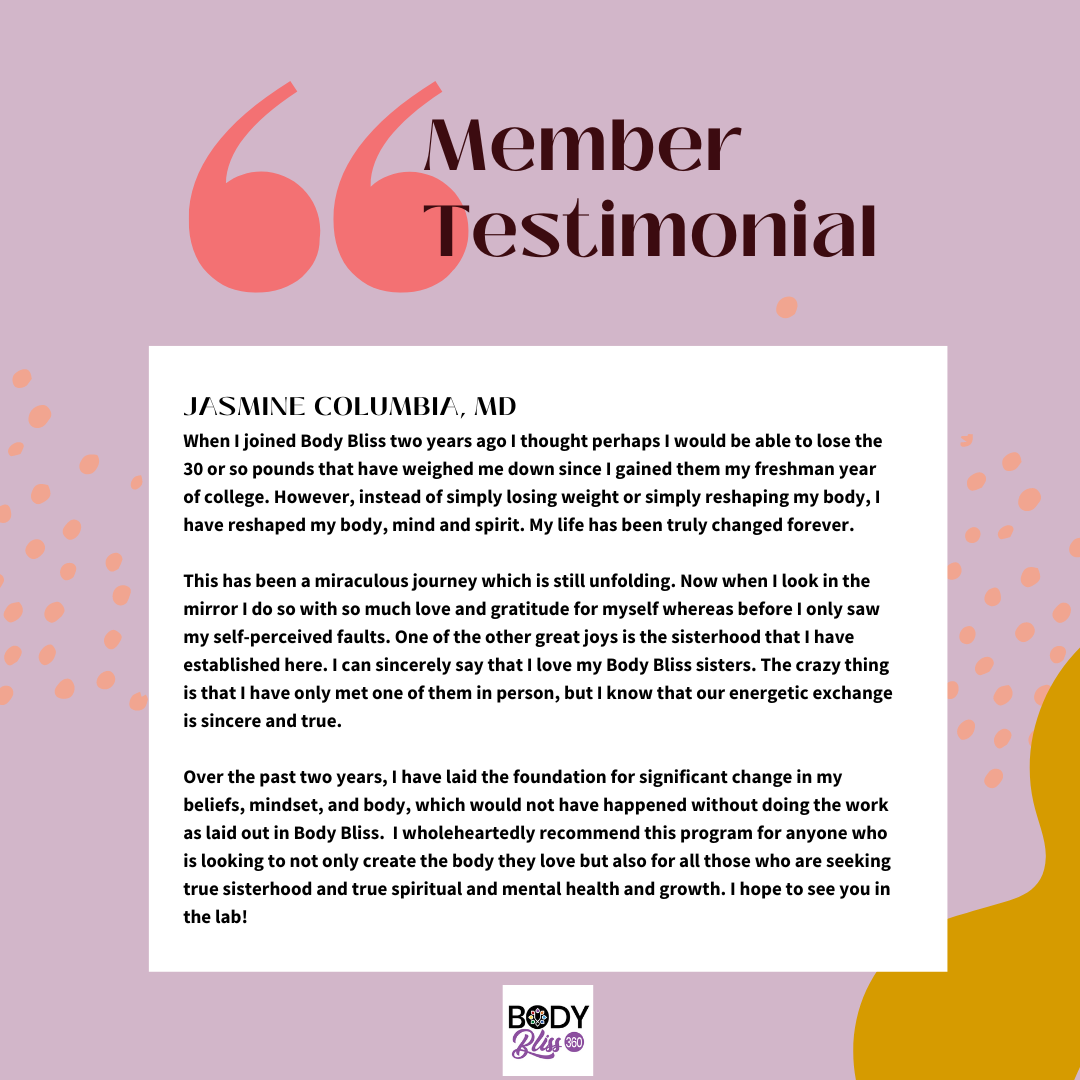 The Entire process will be guided and individually focused. You will receive:
- Regular Email Updates
- Weekly Live Instructional Classes
- Group Check-Ins and Support Circles
- Monthly New or Full Moon Rituals
- Guided Meditations and Trance Work
- Virtual Walking Sessions and Belly Dance Movement Space
- A FREE BONUS Body Bliss Intensive Workbook PDF
- Access to health & wellness core competences in the areas of nutrition, natural healing, meditations, rituals, altar work, mental/emotional health, fitness/movement practices, and more.
- Live meet-ups and retreats in partnership with Blue Butterfly Effect Initiation throughout the year
- Access to amazing PSALMS certified coaches for one on one support at an additional investment.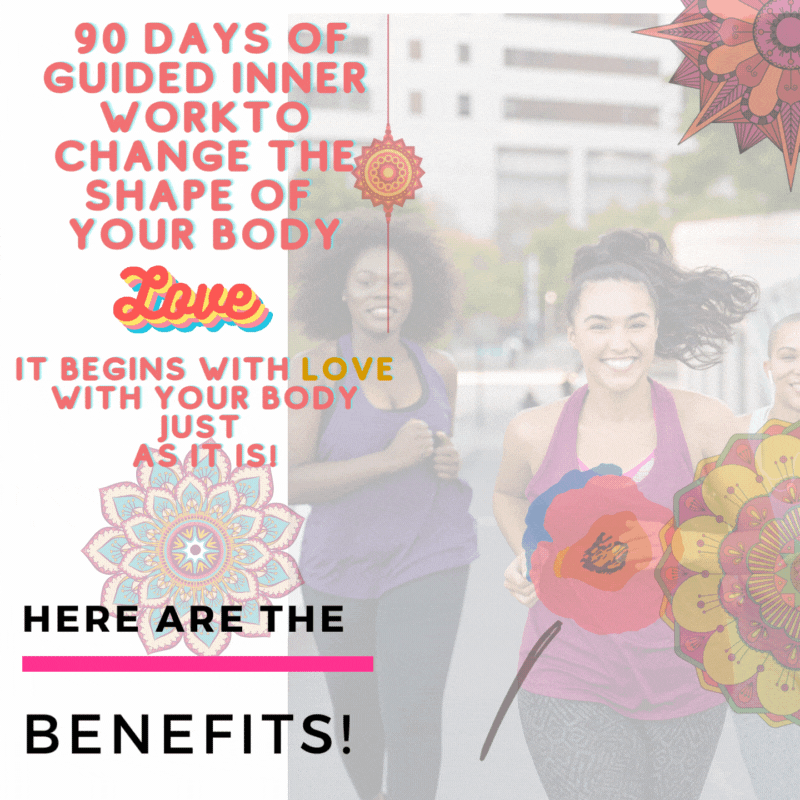 - Manifesting a new relationship with your mind and body in 12 weeks flat.
- Making peace with your Body Temple.
- Discovering Mind/Body Magic that shifts your inner & outer glow, effortlessly.
- Creating Body Devotion by investing the time and attention to "getting to know you".
- Bio-Individuality support - tools and tips customized to your personal needs/desires.
- Learning how to manifest and sustain your body goals with lifetime tools to support you.
- Cultivating a deeper connection to your Life Force - Personal Power.
- Uprooting the intergenerational or childhood trauma that is distorting your body shape and size.
- Becoming the person you truly desire to BE!!
- Access to a host of exercises, challenges, and goodies to assist in integrating all the new concepts you learn.
MEMBER PERKS - LIVE Meetups & Retreats Info:
Join us on the Blissful Butterfly Summer Tour in a city near you!
🌺 May 5-7 Ft. Lauderdale, Florida
🌺 June 16-18 Chicago, Illinois

🌺 July 14-16 Los Angeles, California

Members of

BodyBliss

are also invited to the

Blue Butterfly

Effect Retreats

in Houston, Texas!
There is no other program like this in the world!!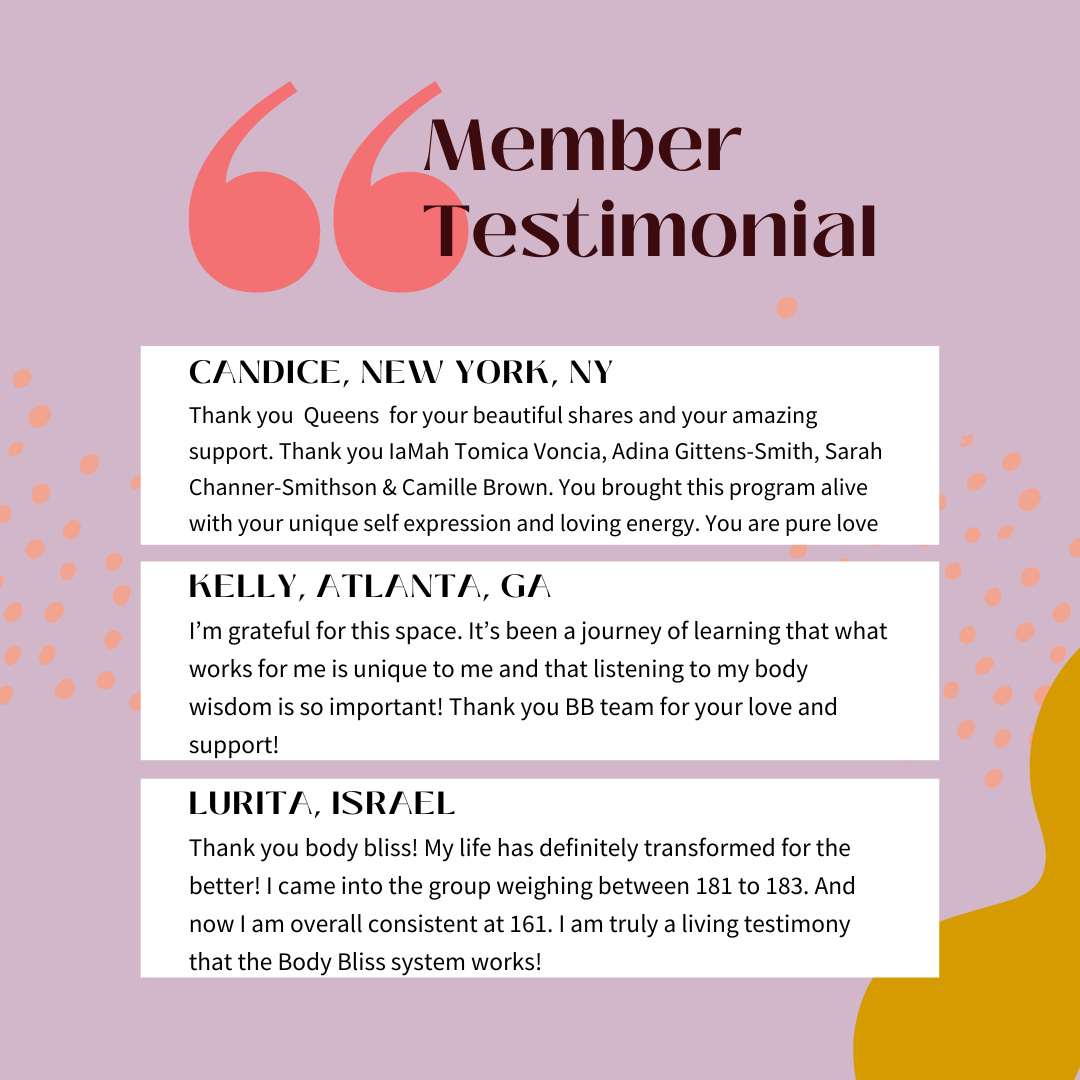 Join the BodyBliss - Body Magic Tribe TODAY to begin peeling back the layers of your inner world to bring forth the body of your dreams!!
Your Instructor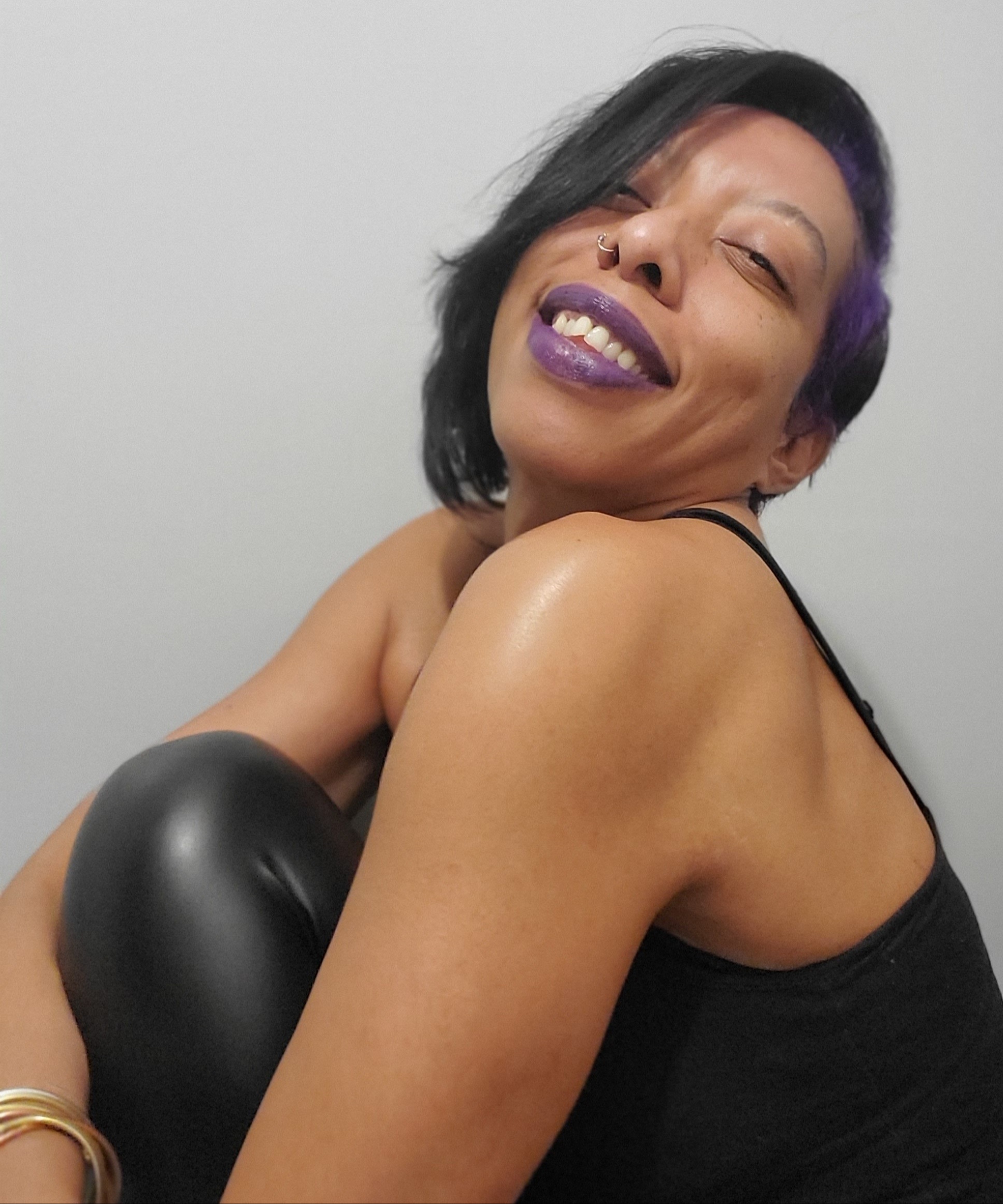 In Jan. 2005, Tomica Thomas embarked upon a weight loss journey to restore her health. This goal resulted in a powerful, life-changing experience that she passionately wanted to share with the world. Her curious nature has resulted in her possessing an array of knowledge and wisdom in the areas of mind/body connection, body science, natural healing, spirituality health/wellness, nutrition, and more. Tomica has been sharing the power of human transformation with others for over 15 years and spent a third of that time working with one of the top supplement companies in the nation. She is an Integrative Nutrition Health Coach, Feminine Power Coach, Spiritual Guide, Mother, & Intuitive Dancer and Free Spirit. Many of her clients have experienced transformation through a deeper awareness of their individual needs/desires and a stronger mind/body connection. Progressive Love Academy has been her spiritual home for over 4 years. The experiences and relationships developed within the Harvard of Self Development has changed her life and placed her here to support you!!
Your Bliss Guides
Adina Gittens-Smith - Co-Facilitator
Adina Adito Lallah means Adorned Great Goddess Daughter of Joy. Adina has always LOVED dance! She performed her first public solo at eight years old! In 2004, Over the years she has studied various dance arts with some of the greats in the culture such as Ballet with Fabian Barns, Dunham Technique with Dr. Sherrill Berryman-Johnson, Afro-Cuban with Angela Ingram, and traditional diaspora dance with Donna Mejia. Adina was introduced to the sacred art of Bellydance at MamaSita Dance Wellness Studio. She fully embraced the joy, passion, technique, acceptance, and feminine power of Afro Caribbean Fusion Bellydance. She received her certificate of Bellydance Instruction in 2014. Currently, she enjoys teaching the divine womanly art of Bellydance in weekly classes and melding her many dance practices together with her sisters in dance. When not working on real estate or world peace, you can find Adina with her family playing in the garden or with her cat, curating a new music playlist, traveling, or in the dance studio…dancing her heart out.
---
Sarah Channer-Smithson
Sarah Channer-Smithson is an PLA 3-Way Mirror Coach, Intuitive Movement Coach, an artist, a herbal consultant, spiritual guide, and a creative spirit. She graduated from the Food and Nutrition Management program in 2015 and has a background in Food Service. Sarah has a vast amount of knowledge on spirituality, nutrition, health & wellness and has healed herself from the pain caused by accidents by using herbs. She allows her intuition, claircognizance, and clairaudience to guide her in her businesses and services to others. She enjoys expression though The Arts, being in nature, and meditating. She believes life is a journey back to Self and it has been a great journey indeed.
Frequently Asked Questions
When does the course start and finish?
The course is a 12 week group intensive online course. You may enroll for as many intensives as you like. You must commit to one 12 week process.
How long do I have access to the course?
After enrolling, you have unlimited access to this course as long as you are enrolled - across any and all devices you own.
What if I am unhappy with the course?
We would never want you to be unhappy! If you are unsatisfied with your purchase, contact us in the first 30 days and we will give you a full refund.
May I enroll in this course at anytime?
There is an enrollment period prior to each 12 week intensive. The program closes to new members after week 1.
Are there any additional purchases or materials required for this course?
Yes, I Create My Life book or journal (additional cost), internet, valid contact information, and a Facebook profile are a few of the required tools/materials for this course.